Podcast: Play in new window | Download
Family history and dynamics shape the faith and destiny of every member. The children often reflect their parent's sins and personalities. Sibling influences siblings. In the case of Jacob and his sons that history and dynamic turned to heartache. But God turned it into good.
Ron Moore begins a look at that gripping story and God's redeeming mercy.
This Week's Resource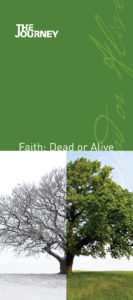 How do you know when your faith, or that of a friend or loved one, is a living faith? Is it proved by a walk down a church aisle, praying a salvation prayer, or attending catechism classes?  Or is there other evidence that must be displayed?
That question is asked and answered in Ron Moore's PDF booklet titled: "Faith: Dead or Alive."
In "Faith: Dead or Alive," Ron outlines the characteristics of genuine belief and how you can perceive their presence animating your life.  It's the most important waypoint on the spiritual journey.
We'll send it to you for a gift of any amount.
GIVE NOW