Podcast: Play in new window | Download
You stand at the pinnacle of your year…or maybe your life. A place of victory and satisfaction. A place where your greatest defeat is just one misstep away.
Today, to help you avoid that fate, Ron Moore points out the verbal snares and tripwires that can lure you into a crippling loss.
This Week's Resource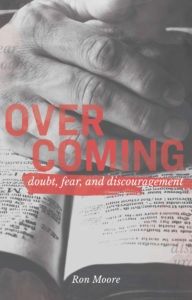 Do voices of discouragement, doubt, and ridicule, from past and present, hound your days and gnaw at your sleep?
Those persistent taunts that question your abilities, wisdom, and resources can keep you from reaching your full potential in Christ.
In his booklet "Overcoming Doubt, Fear, and Discouragement" Ron Moore helps you to isolate the causes of such doubt and fear and defeat them in God's strength.  There, you'll discover an exciting new vision for the work Christ has prepared for you to do.
We'll send it to you for a gift of any amount.
GIVE NOW