Podcast: Play in new window | Download
The Church is a living body fit together by the Creator of the universe. Like any organism, it must be equipped with a defense, nourishment, and determined purpose.
And today Ron Moore outlines where all those are found so that we may be the Church triumphant.
This Week's Resource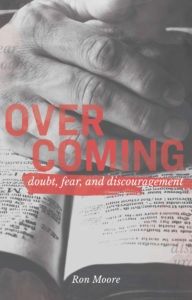 Do voices of discouragement, doubt, and ridicule, from past and present, hound your days and gnaw at your sleep?
Those persistent taunts that question your abilities, wisdom, and resources can keep you from reaching your full potential in Christ.
In his booklet "Overcoming Doubt, Fear, and Discouragement" Ron Moore helps you to isolate the causes of such doubt and fear and defeat them in God's strength.  There, you'll discover an exciting new vision for the work Christ has prepared for you to do.
We'll send it to you for a gift of any amount.
GIVE NOW